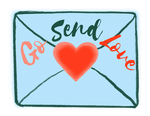 Hi, I'm Elizabeth!
Sending love through letters has always been a part of my life and I want to share that joy with others. Crossing our dirt lane to check the mailbox was always filled with so much anticipation for me as a child. Even when I did not get a letter of my own, the handwritten cards from my mom's two sisters seemed to be there nearly every day!

The cards I design are inspired by the natural settings and plants around me. Sending a real card is sending a physical part of you to your loved one. I hope you will find something beautiful amongst my designs to help you do just that.
Please join the email newsletter below to stay in touch!